Click to enlarge image below
Update: just to make things more solid look at this: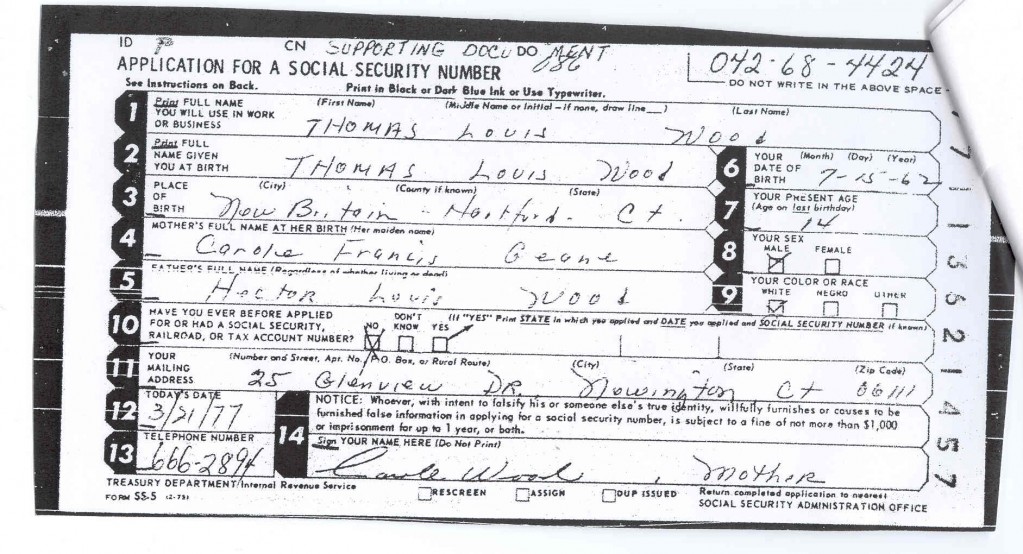 This application (Thomas Louis Wood) is only one number off from AKA Obama's (or Ludwig's) number (

042-68-4425)

and was applied for on 3/21/77 in Hartford CT.
The record shows an 87 year old man applied for a second SS# when he already had one issued in 1951-1952. Or did someone else fraudulently apply for this number?

Four years later he is dead and now AKA Obama uses this number

042-68-4425

on his selective service application. The original Ludwig number 045-26-8722 was never reported as deceased and thus he is 121 years old on the records. Conveniently, as Obama needs a number, Ludwig dies in 1981 and his 4 year old SS# is deactivated..



I don't know quite what to make of this in total. But we do know that the selective service application displays a SS# that couldn't possibly be Obama's and is probably the number of a dead man from CT who applied for a SS# when he was 87 years old. If I can figure this out I will take a crack at Unified Field Theory.





Thomas Louis Wood died at age 19 but that probably isn't relevant.





# # # # # #




Editorial comment:

There isn't any doubt about the social security number AKA Obama used when he filed for a selective service number. The only thing that is causing confusion for some of my readers is the identity of who legitimately was assigned the social security number 042-68-4425. It is recorded as belonging to Jean Paul Ludwig. However Jean Paul Ludwig had two SS#s recorded in his name. The original Ludwig number 045-26-8722 was never reported as deceased and thus he is 121 years old on the records.

One of these numbers wasn't assigned until 1977 and Ludwig died in 1981at the age of 91. Why would any one ask for a new SS# when 87 years old if he already had a SS#? However, the other SS# (045-26-8722) still lists Ludwig as alive and now being 121 years of age.





There are so many SS#s assigned to AKA Obama that it is very confusing. It appears that multiple SS# and addresses were created by someone deliberately attempting to frustrate investigators. Private investigator Neil Sankey to conduct research on Obama's prior addresses and Social Society numbers. Using Intelius, Lexis Nexis, Choice Point and other public records, Sankey found around 25 Social Security numbers connected with Obama's name.





For instance:





Look at

http://www.scribd.com/doc/20976501/Neil-Sankey-Barack-Obama-Addresses-SS-Numbers





Neil Sankey – Barack Obama Addresses and SS Numbers




Page 20 of 39




Name – OBAMA, BARACK




Street Address – OBAMA LN

City, State, Zip – FRANKLIN WI 53132


Probable Current Address – No




Telephone –




Telephone Accountholder –




Social Security –




Age –




Date of Birth –




Deceased – No




Date Record Verified – Feb 08 – Jun 08





Barack Obama living on Obama Lane?




There is no such street in Franklin WI





There is so much "confetti" in the air that you can't see the parade.





As an example of how inaccurate the "personal record" search engines are they say my SS# was issued in 1987 and I am seventy years old. Hmmm?





There is a good discussion on this topic at;




http://www.freerepublic.com/focus/f-bloggers/2702617/posts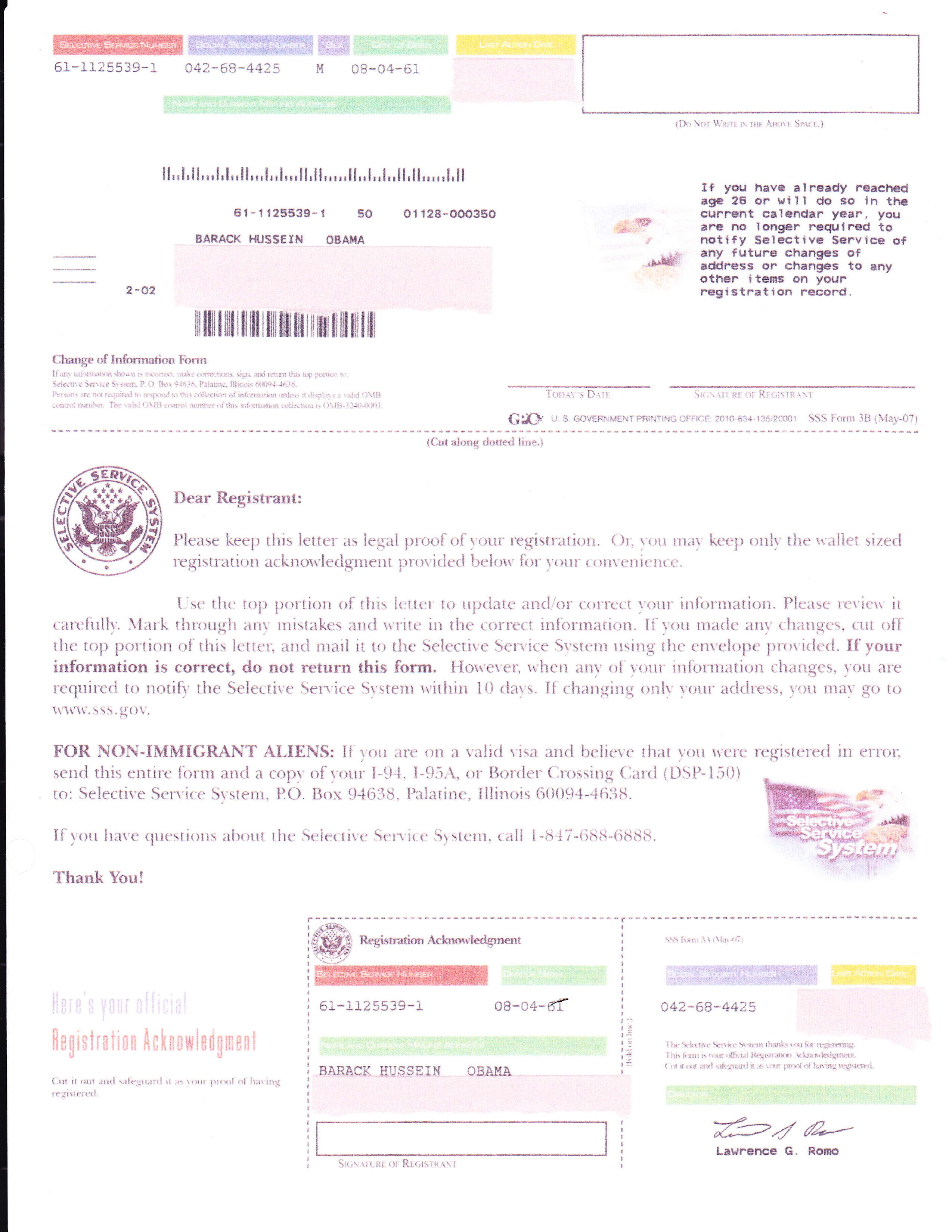 AKA Obama "I've got nothing to hide but I am hiding it."
From blogger Apuzzo:
This news is breaking: This is bad news for Obama.
This is what we know so far. We get more info on Jean Paul Ludwig, who was born in 1890, had CT SSN obtained in 1976 and died in HI around 1981. There are 2 SS numbers for him and records show him dying in 2 different states: CA and HI around 1981.
The reason this is important, is because there is a similar fact pattern to Obama. Barack Obama is residing today in the White House, using CT SS number 042-68-4425, issued in CT in and around March 1977 to an elderly individual named John Paul Ludwig, who was born in 1890, who is presumed dead and whose death was either never reported to the SS administration or reported and deleted from the database by someone.
Obama's maternal grandmother Madelyn Dunham, worked as a part-timer or volunteer in the Probate Office in the Honolulu Hawaii Courthouse. Thus she would have access to the estate files of anyone who died there. Thus if the elderly man originally from CT died intestate in Hawaii with no known relatives, Grandma Dunham would have known this person is a prime candidate to steal the SSN of since there would be no known surviving family worrying about the death benefit from SSN and that the benefit was not likely applied for and thus SSA did not know he died. Thus the SSN remained active for the deceased person and Obama could "adopt" it as his own. This is a clear case of identity theft at the federal level.
This is what we know about Ludwig:
In 1924, Jean Paul Ludwig worked for Senator Reed of PA, in Washington DC.
On the ship manifest of 'Leviathan', he listed Senator Reed in Washington, DC as his empl., in answer to where he intended to live in the US.
Jean Paul Ludwig had been in the US for 3 yrs in 1924, but he was listed on the "Immigration" manifest and refered to as an alien in the column headings.
Listed under "States Immigration Officer at Port of Arrival", New York, Aug 12, 1924:
Jean Paul Ludwig, Date of Arrival: Aug 12, 1924, Port of Departure:
Cherbourg, France, Line#: 0008
Line #8: By Whom was Passage Paid: Emp. Mr. Reed; Whether in possession of $50: Yes; Whether ever before in US: Yes; If Yes-Period of Years: 3; Where: PA
Whether going to join relative or friend: Empl. Senator Reed, Washingto, DC
Length of time alien intends to remain in the US: Always
Height 5′5″, Complexion Dk., Hair Br., Eyes Br., Marks of ID: None
Place of Birth: France, Ammersville.
http://www.ellisisland.org/sign/index.asp?login_targ=%2Fsearch%2Fpassrecord%2Easp%3FpID%3D600642010008%26fromShip%3Dy%26letter%3Dl%26half%3D1%26sname%3DLeviathan%26year%3D1924%26sdate%3D08%2F12%2F1924%26port%3DCherbourg%2C%2AFrance%26page%3D&ACT=LL&section=3
First Name: Jean P.
Last Name: Ludwig
Ethnicity: France
Last Place of Residence: Washington, D.C.
Date of Arrival: Aug 12, 1924
Age at Arrival: 34 Gender: M Marital Status: S
Ship of Travel: Leviathan
Port of Departure: Cherbourg, France
Manifest Line Number: 0008
U.S. Social Security Death Index
Name: Jean Ludwig
Birth Date: 17 February 1890
Zip Code of Last Residence: 96816 (Honolulu,HI)
Death Date: June 1981
Estimated Age at Death: 91
Or just cut and paste this Social Security number into Google.
042-68-4425
########
More recently, it was discovered that Obama's Selective Service card may have been doctored. Federal law requires all American males to register for the Selective Service (the draft) in case a major war broke out. Blogger
Debbie Schlussel
has discovered solid evidence that Obama's Selective Service registration form was submitted not when he was younger as required, but rather in 2008 and then altered to look older. Indeed, the forgers forgot to alter the "Document Location Number" which shows that it is clearly a 2008 form. This is fraud and it's a felony and Schlussel allegations are backed up by Stephen Coffman, a former high-ranking Federal agent. Moreover, the document shows a September 4th, 1980 date and the location of the transaction as Hawaii, but at that time Obama was thousands of miles away attending Occidental College in Los Angeles.
Now the actual Selective Service registration is available and it includes the SS# Obama (or someone else) used to apply for his Selective Service Number